Gearmotors
Stepper planetary gearmotors
Our experience and skills acquired in the field of motion control permitted us to develop a range of planetary gearmotors, characterised by high performance, quality and reliability, which ensure low acoustic noise, flexibility and positioning accuracy.

This series of gearmotors meets the requirements of users looking for high performance systems, in terms of precision and efficiency.
• Gearbox body in stiffness steel
• Reduction ratio from 1:3 up to 1:100
• Backlash down to 5'
• Dynamic efficiencies up to 96%
• Multiple sizes, flanges and shaft available
• Gearbox already combined with AEC motors and servomotors
• Fieldbus: Modbus RTU, Modbus TCP/IP, CANopen, Profibus DP


> Go to models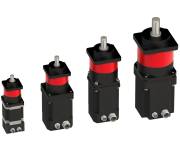 Stepper worm gearmotors
The series of worm gearmotors "IWormGearSmart" is the result of the coupling between AEC stepper servomotors and customized Varvel worm gearboxes.

The personalization of the gearboxes, that differentiates the IWormGearSmart range from the others available on the market, are the optimization of the friction of the sealing rings and the worm gear copuling. These features permit to obtain a low breakaway torque and a low friction during rotation.

These characteristics, in addition to the optimal coupling between stepper motors and gearboxes, allow these gearmotors to be suitable for numerous applications, such as conveyors, rotary tables and any servomechanism which requires good positioning.

The line is composed by four sizes of gearboxes, each one of them available in many reduction ratios, combined with Nema 23, 24 and 34 stepper motors.
> Go to models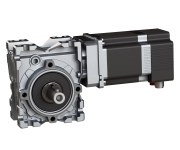 News
---
---
---